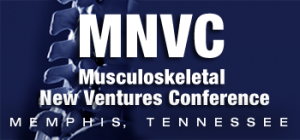 The 17th Annual MNVC will be held October 29-30, 2019

The Musculoskeletal New Ventures Conference was conceived by one of our Venture Partners, Bob Compton.  Bob is a former venture capitalist and former Sofamor Danek senior executive.  His initial motivation was to feature the relative strengths of Memphis in the musculoskeletal industry so he worked with the Memphis Bioworks Foundation to get the Conference started.  Our Firm was a sponsor that first year, but we became much more involved as hosts the next year.  We have been hosts and the largest sponsor every year since.  With the help of our co-sponsors, the MNVC has since become the premier event for musculoskeletal entrepreneurs, scientists, investors, and business development executives.
When we put together the agenda each year, we look for an even distribution of companies working on product solutions for spine, trauma, sports medicine, biologics, diagnostics, and extremities, just to name a few.  We're also looking for new ideas, ones that haven't commonly, or ever, been presented at other events.  Nothing excites our MNVC audience quite like new ideas they haven't seen anywhere else.  Fortunately for us, entrepreneurs often choose the MNVC as their venue to "break stealth."   It is so flattering to all of us on the MNVC team to know that once a start-up and its investors are ready to make their first conference appearance, they choose the MNVC to do so.
The Conference will be held at the FedEx Institute of Technology at the University of Memphis, October 29-30, 2019. For more information, visit www.mnvc.org.