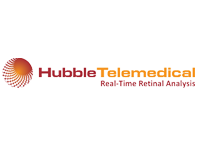 Hubble Telemedical is eradicating vision loss and blindness from diabetic retinopathy through early disease detection.  The company's award-winning telemedicine platform enables specialty eye exams in non-specialty settings, such as primary care and retail health clinics.  By improving patient convenience, screening rates increase dramatically, which translates into better patient outcomes and lower healthcare costs.
Hubble Telemedical was acquired by Welch Allyn in January 2015.
For more information, please visit www.hubbletelemedical.com.